Today's Platinum is Tomorrow's Treasure – Expert Insight on Platinum Pricing
Our experts share insights and analysis about platinum price forecasts for the upcoming years. It will rise to up to USD 2500 by 2033, according to the future forecast.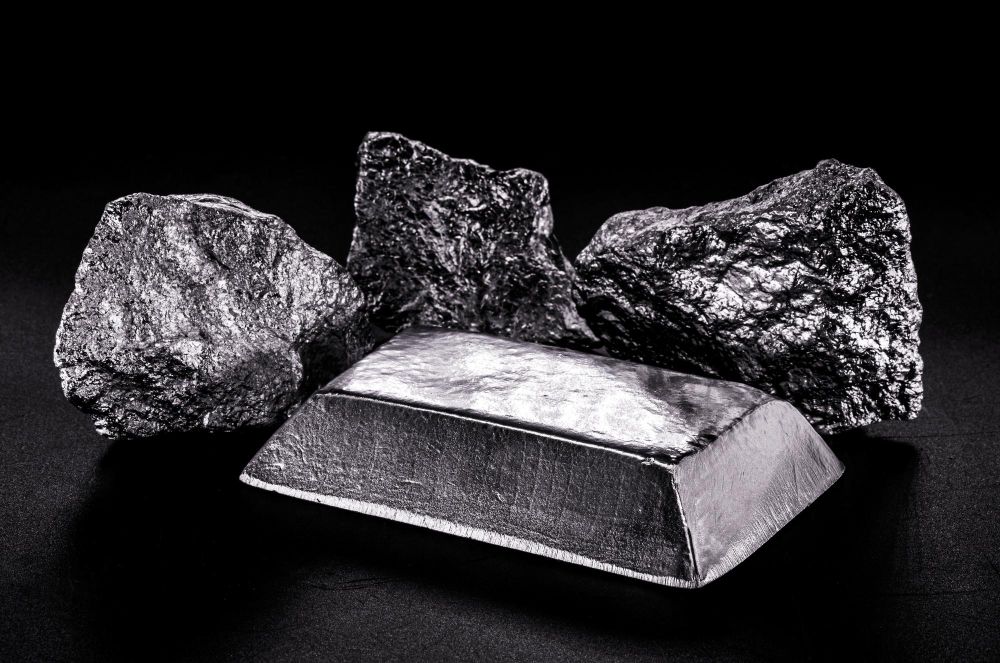 Platinum is one of the rarest metals in the world, and due to its unique properties, it is highly prized across various demand categories. Platinum's special physical and catalytic properties have made it valuable in industrial applications. At the same time, due to its distinctive qualities as a precious metal, it is the best metal for jewelry. Primary mining production and recycling, which mainly comes from reusing jewelry and old auto catalysts, are the two main sources of platinum supply.
Market Drivers
After two years of pandemic-related disruption, the world is currently dealing with even more serious difficulties, which is driving the price of platinum.
✔       Strong US Dollar and Inflation rates
✔       Higher Supplies
✔       Strong Automotive demand
Strong US Dollar and Inflation rates
Fears of Inflation and the strong US dollar have contributed to some heavy losses for platinum this year. The metal has experienced increased volatility because of geopolitical conditions and hit a multi-year low on 1st September. Looking ahead, we anticipate that the recession and interest rates will be the main pricing influences. Equity markets are likely to recover after investors realise inflation has been defeated, maybe in the year's final two months. But depending on the US dollar, a recovery in commodities Platinum prices will take some time.
For the year that ended in August 2022, the United States' annual inflation rate was 8.3%, down from 8.5% the year before.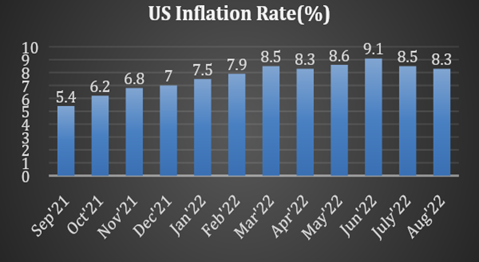 Higher Supplies Mine Supply
The production of platinum is expected to increase by 3% to 6,270 koz globally in 2022. Processing accumulated material boosts output once more, although, in 2021, processing was a noticeable increase. Estimates place the supply of platinum from South Africa at 4,570 Koz, up 2%. Due to the mines' return to full working capacity by the end of 2021, the supply of platinum from Russia is anticipated to increase by 16% to 670 Koz. 35 and 25 Koz more will be produced in America and Zimbabwe, respectively.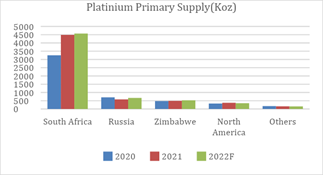 Recycling
Secondary platinum supply grew by 5% to 1,830 Koz last year as gains in auto catalyst and industrial recycling offset a small decline in jewelry recycling. This year, platinum recycling is predicted to be up just 10 Koz owing to a modest increase in jewelry recycling, more than offsetting slight declines in auto catalyst and industrial recycling.
Strong Automotive Demand
Platinum automotive demand is forecast to rise by 12% to 2,975 koz in 2022. Even though there is still a shortage of semiconductors, it is getting better, and the year-over-year increase is due to higher vehicle production volumes and higher platinum loadings on heavy-duty vehicles after treatment systems, especially in China. However, the strict lockdowns that persisted during the first six weeks of the year had an impact on vehicle production.
Automotive demand continues to gain from the substitution of some platinum into gasoline autocatalysts which are being more widely used, particularly in China and North America and to a lesser extent in Western Europe.
| Demand | 2020 | 2021 | 2022 F | % Change |
| --- | --- | --- | --- | --- |
| Auto Catalyst | 2315 | 2665 | 2975 | 12% |
| Jewelry | 1560 | 1780 | 1685 | -5% |
| Industrial Demand | 1925 | 2140 | 2215 | 4% |
| Total | 5800 | 6585 | 6875 | 4% |
The Price Outlook Moving Forward
In 2022, the platinum market will be better as demand will outpace supply. As vehicle production rises and more highly platinum-loaded gasoline autocatalysts are introduced, there is an increase in demand from the automotive industry. Although Covid lockdowns in China have hurt jewellery demand, industrial demand is also rebounding.
The market was severely oversupplied at the outset, and it still is this year. Once more, it is projected that there would be a surplus of more than 1 moz. Despite the possibility that real assets would profit from a high inflation environment, ETF/stock holdings have decreased this year. The price of platinum is forecast to average in the range of $950-1000/oz since it is now vulnerable to weak fundamentals and has limited investor support.
Platinum Price Prediction
According to the research of many experts, the platinum forecast says that long-term increases are expected in the price of platinum. The XPT/USD technical analysis for the price of platinum for 2021 says that the platinum trading ranged from 1000 USD to 1200 USD in the middle of autumn. Latest, have a look at the platinum price forecast for the upcoming year 2023. In the month of January, it is said to open at 1420 and close at 1478. Coming towards the made of the year in June 2023, the lowest is said to be one for 89, while the highest is set to be 1581. Speaking of the long term, the platinum price prediction for the years 2025 to 2030 is mentioned. In the year 2025, the mid-year platinum prices are said to be USD 2805, and towards the end of the year, it is said to be USD 2806.
Factors affecting the platinum price
There is a list of some factors that have majorly affected the platinum price; it is mainly mined in South Africa, and it is also found in Russia and Canada; platinum is used industrially on a larger basis, and more than 50% demands of platinum come from this industry.
The first factor is the Diesel scandal
Platinum is widely used for catalytic converters in the automotive sector, and it helps reduce harmful exhaust gases. The diesel scandal in the automotive sector negatively impacted the demand for diesel cars, so platinum demand also decreased as a result.
The second factor is hydrogen
We are still not sure whether we will all drive electric cars in the future or if we are switching a lot to hydrogen-consuming cars. Car manufacturers such as bold swagger and Audi are investing heavily in hydrogen-based cars has led to a higher demand for platinum.
The market price of platinum
The market price of platinum is expected to reach its highest by the end of this year. Studying the key market trends in the application of platinum is an exhaust systems, jewellery, chemical catalyst, electronics, and other applications. The front-selling price of platinum is 866.38 XPT/USD. The current buying price of platinum is 870.36 XPT/USD. Subscribe to PriceVision to get the most current and accurate platinum price details.